Talking is an essential aspect of human civilization. In the 17th century London, coffee houses were the center of conversations. French business owners soon took the idea and turned it into curated salons. Businesses today rely on massive amounts of data compiled into databases to communicate with their customers, and data mapping allows these databases to communicate with one another. Data mapping is a popular technique used by data analysts, scientists, and statisticians to visualize their findings and uncover hidden insights in data. It's a great place to start if you want to learn more about what's going on with your data. However, with vital information comes great responsibility.
The General Data Protection Regulation (GDPR) is the most significant change to data privacy in 20 years, affecting businesses worldwide, not just those in the European Union. Companies that have not prepared for GDPR risk a fine of up to 4% of their global annual turnover, or €20 million, whichever is greater. [1] The GDPR is intended to provide more excellent protection for consumers and give them more control over how their data is used, and it will be a significant change for both large and small businesses. The earlier you begin mapping your data, the simpler it will be. Here's a quick rundown of what you need to know about the GDPR's impact on data mapping and what you can do to comply.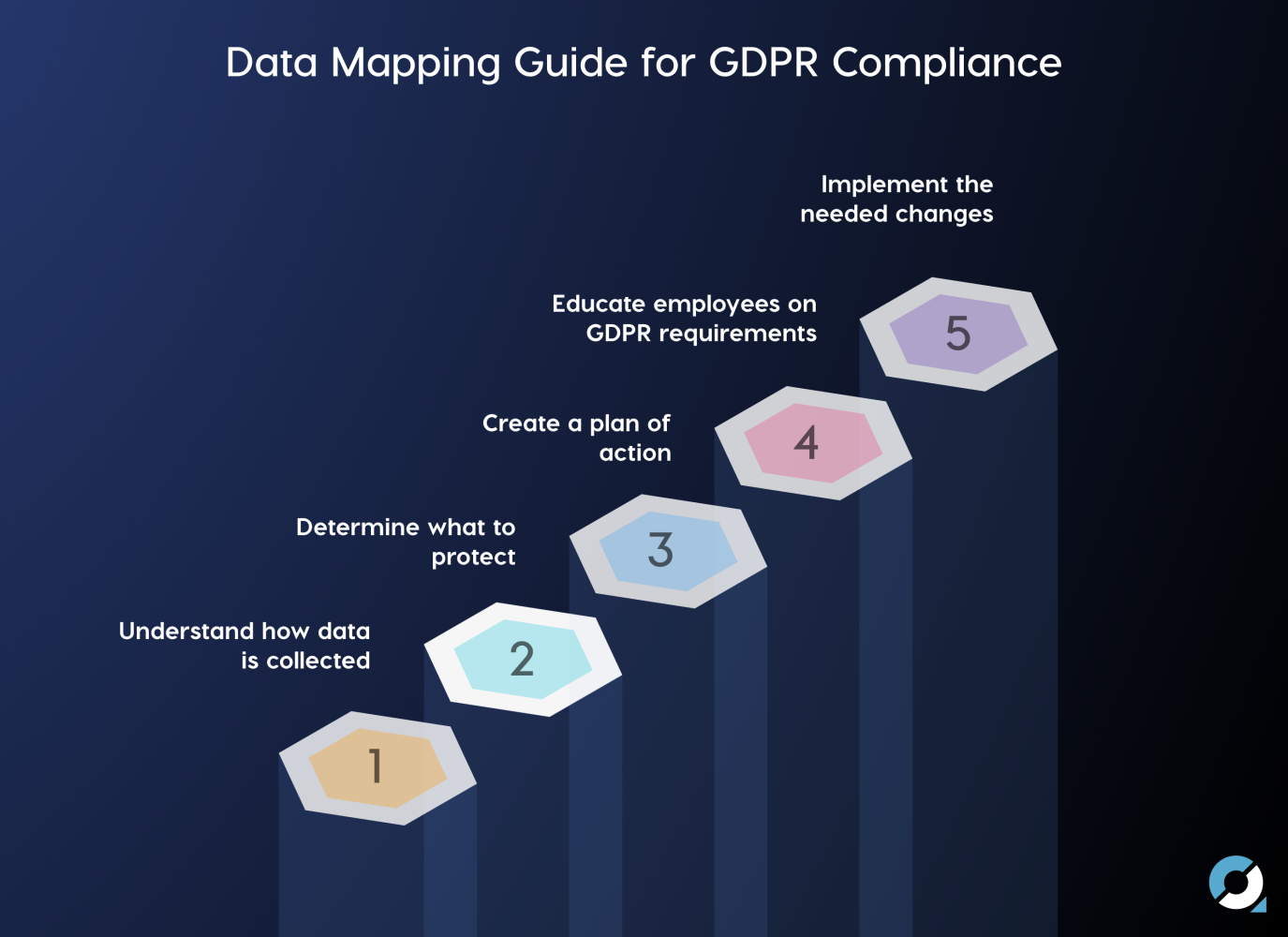 1. Understand How Data is Collected
Essentially, data mapping is understanding how data is collected and determining what to protect. With GDPR, companies need to be conscious of data collection, and its meaning for their business. Many companies overlook when drafting a plan the useability of customer data. The data collected requires figuring out why you need the information you are collecting, who will have access to it, and how long will it be stored? How does this information relate to your company's mission?
For example, if your goal is to provide excellent customer service through an online chat program, you're not going to need the IP address of all customers who use this chat system. However, if your goal is to create better advertising campaigns based on customer preferences, you will need that information to track purchases over time. It's also important to be aware of potential vulnerabilities in your system or network. If someone could hack into your system and steal information, would they have access to all the data? What about if someone gains physical access with a laptop?
The next step in mapping your data is understanding what needs protecting against cyberattacks or other issues related specifically to GDPR compliance. The most popular way of doing this is encryption. Encryption scrambles sensitive information not to be read by unauthorized people, even if they have physical access to computers with encrypted files.
2. Determine what to protect
It is crucial to think about what you want to protect. Data will depend on the company, but there are some basic things that most companies will need to focus on. For example, many people want to know how their data is collected and stored. How long do you keep your customers' data? What is the method of storage? Are all employees required to be GDPR compliant? Do you use third-party software to store or process any customer data? These are just a few questions that should be considered when mapping out your company's plan for GDPR compliance.
3. Create a plan of action
The next step is to take all the data you have collected and create an action plan. The action plan will be different for every company depending on their needs. But, some simple steps should be taken by organizations no matter what.
First, make sure your company can handle the influx of requests or complaints related to GDPR. GDPR Compliance can be helped by having an employee designated as a data protection officer who has the authority to meet any customer needs. Second, make sure your employees know GDPR and how it may affect them.
Third, set up a system to ensure that sensitive customer information is not misused or disclosed. Finally, develop a process for reviewing data practices periodically to do this regularly rather than waiting until GDPR compliance status changes.
4. Educate employees on GDPR requirements and protections
GDPR outlines how businesses should protect personal data, and it is up to them to make sure their employees are educated on the requirements and protections that come with GDPR. Article 30 of the GDPR deals with data mapping [2], wherein it's stated that Article 30 of the GDPR demonstrates that organizations must preserve accounts of operating activities under their responsibility.
That account shall include all of the following information:
The name and contact data of the manager and, where applicable, the joint manager, the manager's agent, and the data protection officer;
The intents of the processing;
An account of the forms of data subjects and the forms of personal data;
The forms of recipients to whom the personal data have been or will be exposed as well as recipients in third countries or international companies;
Where applicable, carries of personal data to a third country or an international organization, plus the recognition of that third country or international organization;
Where possible, the expected time limits for the deletion of the different forms of data;
Lastly, If possible, a general report of the technical and organizational security steps is referred to in Article 32(1).
5. Implement the needed changes in your business
Throughout this process, it's essential to keep in mind the customer. They may not care about GDPR, but they will care if they feel like their data is being compromised. It's also critical to ensure you have the right resources when you need them, including legal help, data security experts, or someone who can help with compliance changes.
Conclusion
With the implementation of GDPR, many businesses are scrambling to devise a data mapping strategy. They may be unsure of where to begin or how to safeguard their customers' data. Companies that process or store citizens' data must meet specific standards and ensure regulatory compliance. Organizations must, in general, take some time to consider how they can best protect themselves to remain compliant.
References:
[1] Fines/Penalties under GDPR, https://bit.ly/3sc5vic.
[2] Article 30, EU GDPR, "Records of processing activities", https://bit.ly/3IZen1A.